The pre-finished steel DE-Series Double Egress is commonly used for openings requiring Doors swinging in opposite directions.
Our DE-Series frames are made using 18 gage pre-finished steel.
Finishing options include 2 standard colors, 4 premium colors, 29 pre-matched custom colors, project matched custom colors or primed for field painting. Galvanizing is available for all painted finishes and is REQUIRED in areas subject to high humidity, corrosive environment or exterior installations.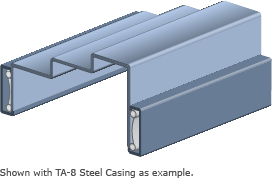 Fire ratings up to 90 minutes are available.
Mullions are not available for DE-Series frames.